Bio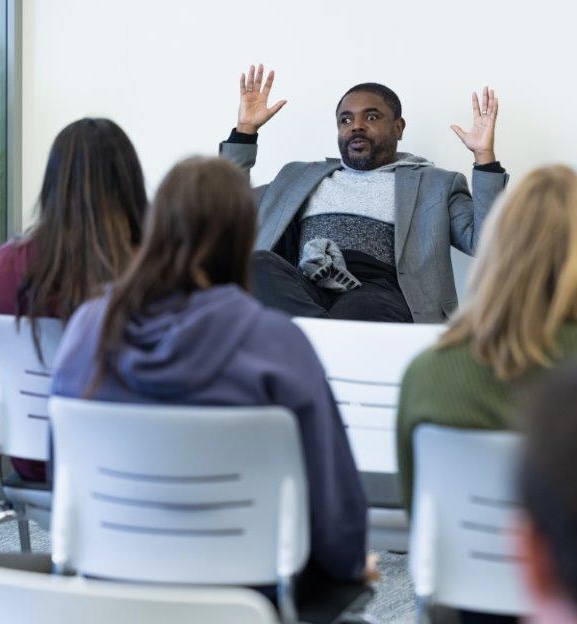 "Hassahn Liggins, a charismatic speaker, prolific writer, and a beacon of inspiration, is driven by a deep-rooted passion for uplifting individuals and fostering positive change. With an unwavering commitment to empowering communities, Hassahn has made a profound impact through his multifaceted endeavors.
As an acclaimed author, the Chicago native co-authored the thought-provoking book 'Soles for Sale,' a poetic and gripping exploration of an established underground economic system that exposes the dark realities of segregation, exploitation, addictions, crime, and the struggle for survival. The book has resonated with audiences and has even been added to the curriculum of several schools, including Drake Elementary, Bennett Elementary, Dr. King Academy, Ruggles Elementary, Perspective Charter School, Olive Harvey Community College, Truman Community College, Harper College, and more, leaving a lasting impression on young minds.
Hassahn's captivating storytelling and profound insights have extended beyond the pages of his book. His dynamic speaking engagements have touched the hearts and minds of diverse audiences, ranging from Chicago Public Schools and universities to corporate events. He has been invited to deliver keynote addresses, including a powerful presentation at the GM Conference of Cooper's Hawk Winery & Restaurants in Las Vegas, where he inspired leaders with his insights on conflict resolution and effective communication.
Passionate about uplifting people and making a lasting impact, Mr. Liggins co-founded the non-profit organization, Be The Miracle. With the mission to develop youth leaders who will reclaim and rebuild communities, the organization aims to end the cycle of violence in Chicago. Through mentorship, educational resources, and empowering initiatives, Be The Miracle equips young minds with the tools and knowledge they need to thrive and become agents of change. The motto 'Don't Wait on a Miracle, Be The Miracle' resonates deeply, inspiring individuals to take charge of their lives and become catalysts for community transformation.
Hassahn's remarkable journey extends beyond the literary and advocacy realms. His versatility as an interviewer has allowed him to engage with influential figures across industries, while his evocative songwriting has garnered widespread recognition. With his songs featured on major TV networks like ABC, CBS, HBO, Netflix, and in popular shows like 'Better Call Saul' and '13 Reasons Why,' he seamlessly weaves powerful narratives into melodies, captivating audiences and evoking a range of emotions.
Embodying the spirit of resilience and the power of words, the masterful orator continues to uplift, inspire, and ignite change. His work represents a profound commitment to creating a better future, one that empowers individuals, rebuilds communities, and sparks essential conversations. Through his writing, speaking engagements, and dedication to Be The Miracle, Hassahn Liggins remains a beacon of hope and a catalyst for transformation.
Embark on a transformative journey with Hassahn as he lights the path toward empowerment and community resilience. Together, let us rise above adversity, foster meaningful connections,